What is Terror in the Corn?
Terror in the Corn opened its doors in 2001 and has grown into one of the largest Haunted Attractions in Colorado. It is a three part event you won't soon forget. The experience begins by climbing into an interactive and totally enclosed trailer that drops you off in the middle of a dark and sinister Corn Maze. Those fortunate enough to escape it's twisted path are 'welcomed' into a Haunted Ghost Town where nightmares greet you at every turn.
Terror in the Corn does not have an age limit, however, we do not recommend Terror in the Corn for children under 10, but we leave the decision up to the parents. Experience has told us that you can be 35 years old and freaked out where the 10 year old comes out and says. "ah, it's no big deal!" (Of course he was hanging on to Dad the whole time). So, it really depends on how well your child likes being scared.
How does the new timed ticketing work?
HOW IT WORKS
Step 1) Determine what day you plan on coming.
Step 2) Click the chosen date on our "Buy Tickets" now calendar.
Step 3) Select the time you would like to get in line.
Step 4) Purchase your tickets.
ITS JUST THAT EASY!
GETTING STARTED ONCE YOU ARRIVE
Terror in the Corn has a staging area with 1/2 hour time slots displayed.
You may enter the staging area 1/2 hour before your designated time marked on your ticket.
If you have a 9PM ticket and it's 7PM there's no reason to be standing in line for 2 hours while you could be enjoying the other activities on the farm. That's one benefit of TIMED TICKETING.
When its your time we will move you from the staging area to the queue line to begin your journey to Terror in the Corn.
We make every effort to minimize wait times.  However, on very busy nights you may experience some delays, possibly an hour or more.
FACT
We hate LONG lines just as much as you do.
Timed ticketing was designed to eliminate extremely long lines and allow you to enjoy other activities on the farm until your time slot is ready.
We highly suggest purchasing online as tickets are limited to reduce wait times.
What is the earliest time I can arrive to the farm if I have a Terror in the Corn ticket?
Terror in the Corn tickets include admission to Fall Festival. You may enter the farm as early as 10:00 AM on Thursdays & Fridays and 9:00 AM on Saturday & Sunday.
If I'm still in line at closing time will I still go through Terror in the Corn?
YES! Everyone who has purchased a ticket by closing time and IS IN LINE will go through the attraction.
I want to do Fall Festival and Terror in the Corn, do I need to purchase both tickets?
No. Fall Festival is included in any Terror in the Corn, Zombie Paintball Hunt or Terror/Zombie combo ticket.
Do you ever close for bad weather?
Safety of our customers and staff is of our highest priority here at the farm. We do our best to stay open during advertised hours but sometimes mother nature does not cooperate with us.  We will post information on our website and Facebook page as soon as any closure is determined.
I want to work for Terror in the Corn, who should I contact?
Please visit our Employment page for more information.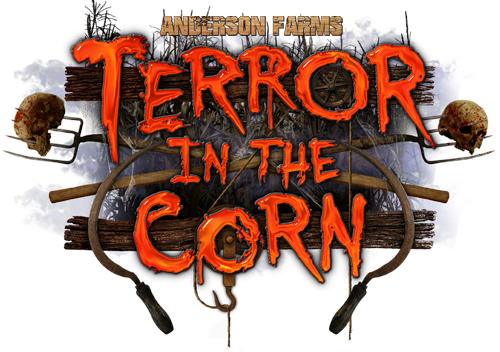 All images and content contained on this website is © 2019 Anderson Farms, All Rights Reserved | LOG IN